You are currently browsing icy's articles.
Maybe I'm just not very good at expressing affection. I mean, is posting a youtube link– in hopes that it will explode my dear friend Timbuk's brain– any way to say "Hi! Thinking of you!!"? On the other hand, although the lady in the video appears to be a quack, easily refuted by a scientist like Timbuk, maybe she's onto something: After all, as she notes, Steven Hawkingz invented the vibrator. And what if we could take all the vibration in a vibrator and pack it into a bomb, and pack that bomb into a youtube link, and leave that link here like a bag of flaming dog shit on this blog's doorstep, and when I, ahem, ring Timb's "buzzer" and run away… won't his subsequent ejaculation of laughter or disgust (or whatever state of energy Timb is composed of)… won't his popping-off like a champagne-bottle money shot… prove this dumb twat's theory of homeopathic energy? Let the scientific experiment begin:
kA6rUU0K9xE
My phone is broken. Will let you know when it's not.
"Hi. It's Obama. I'm calling because, well, I hear you're a slut."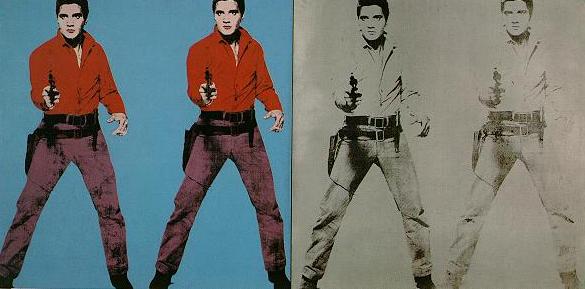 Picked up a really large crate yesterday. The value is listed at $20 Million, and contents say "Warhol, Double Elvis". The roll-up door on the back of the truck is exactly 8 feet tall, but the crate is 8 feet and a half inch, so the whole 336 pound thing had to be tilted to fit-inside. Took it to our warehouse & switched it to a truck with a taller door.
A commotion began in our office, because the crate is going to Europe, and the absolute maximum height to fit on the airplane is 96 inches (8 feet). Much speculation and hand-wringing began, but office staff wouldn't walk outside & look at the crate. There were these 3/4″ wooden cleats on top & I suggested we could remove those & be 1/4″ under 96. Office staff didn't want to alter the crate.
We packed several additional tons of crates on the truck. Then suddenly office staff wanted to re-measure the crate. But, they also declared that to be impossible because all the other crates were in the way. I offered to go try anyway, but they said don't bother. I couldn't see the harm, since 3 drivers were sitting on our asses. After an hour of zipping my lip, I said the protective plywood lining the truck walls is exactly 96 inches high, so if the crate is taller than that… it will confirm the height problem. Went outside & took a picture, showing the crate is under 96, except for the cleats on top. Having wasted a couple hours doing nothing about the problem except talk– they told us to continue to the airport.
En route to the airport, we got a call: now they want us to pull over and remove the cleats. Except everything-else in the truck has to be on a 5 p.m. flight. And it's a quarter to 5, and the truck is in a huge traffic jam at the JFK loading dock. There was a great Mos Eisley Spaceport moment of truck drivers of all nationalities, races, & alien species jumping out of trucks to bark at each other. Someone I've never seen before pulled up in a car & handed me a crowbar. Was I supposed to hit somebody with it? Oh– he works for the client and wants me to remove the cleats.
We unload all the other stuff in record time, but I don't know if it missed the 5 p.m. flight.
Next, "Warhol, Double Elvis" has to be on a 6 p.m. flight. Office says they don't want airport staff to see us altering the crate, so we pull over– one chainlink fence away from an active runway– and start trying to knock the cleats off. Except we're not at our warehouse, so no ladder. And since we unloaded all the other crates, I can't use those to stand on. Reaching 8 feet up, prying blindly. Smacking the $20 Million crate with a hammer. It's twilight. 6 p.m. is ticking closer. We get the first couple cleats off. 3 more to go. It's going to be close. Office calls to say that 96 inches won't do– now it has to be under 95 inches! Can we take cleats of the bottom, too? "Can you take your shoes off while you're standing in them?" asks the other driver. Insane, time-wasting discussion about ways to remove bottom cleats. Our office is making calls to airport dock workers, asking if they'll let us borrow a forklift to remove cleats. 'Fuck off' is the answer: not their job, not their liability. Now the airport dock doesn't want anything to do with us. They announce they're all on break, refuse to accept the crate. Client decides we should miss the flight and remove bottom cleats back at our warehouse. Talks to airport staff & comes back to ask…
"Can you get it down to 94 inches?"
WTF? And… no. 94 and 3/16ths is the shortest we can make it.
My workday is approaching 12 hours. I'm chilly, hungry, just want to go home. Client spends an hour standing outside, thinking aloud. Finally announces that tomorrow's flight is on a different airline, which accepts crates up to 98 inches .
Could be worse: Back home, a friend calls. He deals in high end comic books. Says he flew to Orlando to see a big collection. There's a buyer in Europe. But the Orlando collector doesn't want to ship the comics there. Orlando collector says he works in ocean shipping business, and when the ships are late or encounter bad weather: they start dumping shipping containers overboard. It's 5 a.m. now. I am in bed, wide awake, worrying about things being dumped off ships, somewhere… at this very moment.
My boss is insane. He turned down a big week-long gig in NY, with a steady art-gallery client, which would have employed 4 of our guys… because it would have tied up our manpower, so we wouldn't have guys to work a simultaneous art fair in Miami.
Except, it wouldn't have tied-up our company: because I volunteered to do the Miami job– bringing in as my helper– an outside guy I know, who is fully-qualified. Plus, I said we'd forgo hotels on the truckdrive down & back/ staying at the other guy's parents' house in N.C. And, by volunteering to stay in Miami for the whole convention, we'd spare the boss 4 plane tickets (flying us back to NY after the delivery, and then back-down to retrieve the truck and art, when the convention is over). Big savings, plus the NY gig profits.
The boss refused.
The boss is obsessed with the seniormost driver doing the Miami trip. The boss doesn't care if he has to pay that guy an extra $150 a day, pay for the N.C. hotels, pay for the plane tickets. Doesn't care if the other guy refuses to ride with the boss, so the boss has to pay me to ride along/ while boss flies down. Boss doesn't care that the senior-guy refuses to do the 2nd leg; requiring two-more guys to do that.
This isn't a business. It's a toy. We aren't in the moving-and-installing art business. We're in the do-whatever-a-whimsical-idiot-wants business. The problem is he married an heiress (she looks just like the ones Groucho used to deal with). So financial considerations aren't a consideration. We're a toy company, to keep him busy. Which raises questions about why no one has received a raise in 4 years, supposedly due to 'hard times'.
To top it all off, I'm kinda in trouble for having thunk-up the Miami solution, because it inadvertenly revealed what a sham the bosses decision-making is. Stupid me: when boss complained about the Miami problem, I thought he wanted it solved.